Offer
Cutting heads Dragflow
Cutter head is a custom designed system assembled with pump. An independent system is created for hard compacted soil extraction, for which a mechanical excavator would be otherwise required. By using a single cutter head (DTM series), we avoid the risk of clogging any of the elements of the technological line transporting the mixture. The cutter heads increase the percentage content of solids in the pumped mixture.
We offer cutter heads for pumps with hydraulic (EXHY series) or electric (EXEL series) drive.
Technical characteristics of each device are available in DOWNLOAD section.
Our specialists will help you to select proper device for your application. Please contact us.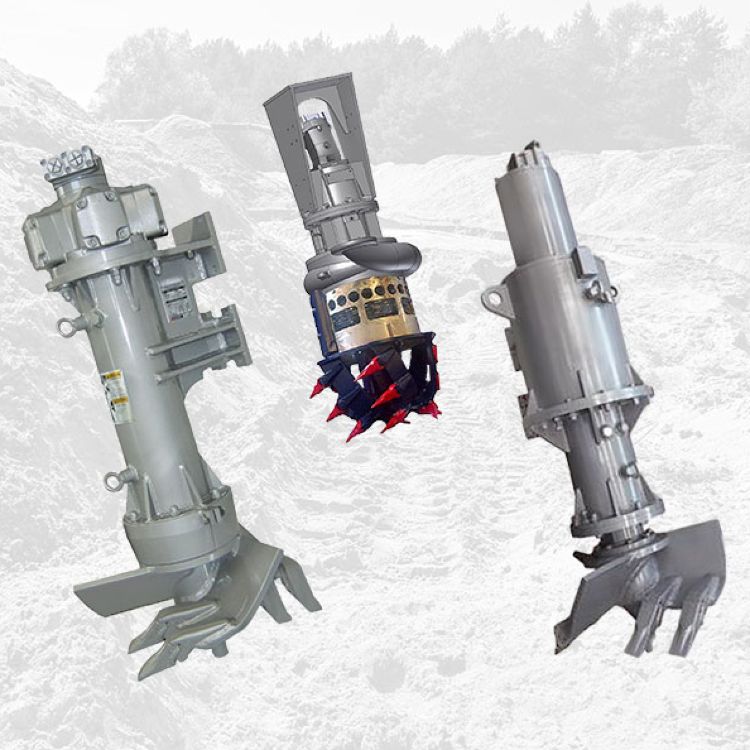 SPECIFICATION
Files to download
Features:
cutting head is designed to reduce cost of wear parts thanks to interchangeable hard tooth,
robust electric motor guarantees strong torque and long life,
cutters are designed to work up to 250m working depth, handled by steel cable.
| | | | | |
| --- | --- | --- | --- | --- |
| Type (hydraulic motor) | Torque [kNm] | Power [kW/KM] | Speed [rpm] | Weight [kg] |
| DTM85 | 4,9 | 16,7/22,6 | 30 | 450 |
| DTM400 | 9,1 | 52/70,4 | 50 | 1070 |
| EXHY20 | 2,6 | 14,5/19,8 | 50 | 500 |
| EXHY20S | 4,5 | 25/34 | 50 | 600 |
| EXHY35 | 4,5 | 25/34 | 50 | 600 |
| | | | | | |
| --- | --- | --- | --- | --- | --- |
| Type (electric motor) | Torque [kNm] | Voltage/Current [V/A] | Motor Output [kW/KM] | Speed [rpm] | Weight [kg] |
| EXEL20 | 3,2 | 400/18,8 | 9/12,5 | 1450 | 800 |