Pumps and dredges

SIGMA S.A. IS THE OFFICIAL DISTRIBUTOR OF DRAGFLOW BRAND EQUIPMENT IN POLAND
SIGMA S.A. provides the highest level of sales, after-sales service and training in scope of offered equipment. We are an authorized distributor of the Dragflow brand in Poland. Our offer includes pumps, dredges and spare parts of this producer.
Thanks to the experience gained in the field of pumping and dredging, we guarantee the delivery of modern and effective systems, ensuring a number of economic and technical benefits.
We provide equipment for a wide range of projects: from pumping installations in mines, cleaning works, up to dredging the bottom of reservoirs or seabed.
APPLICATIONS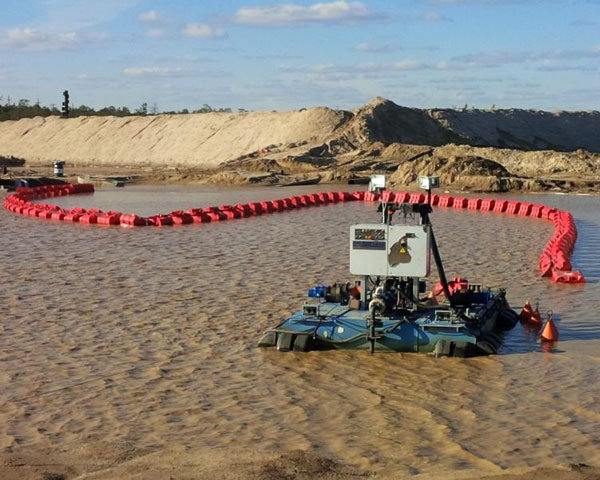 EXTRACTION OF AGGREGATES, REMOVAL OF SAND AND GRAVEL FROM THE BOTTOM OF RESERVOIRS
For sand and gravel application, efficiency is crucial. The cost per ton of extracted material can heavily change the profitability of the plant. Dragflow solutions are a competitive alternative to more traditional cutter suction dredges, because the submersible agitator pump technology allows keeping a much higher solid concentration in the dredged slurry, thus permitting lower operational cost per cubic meter of material extracted. This means possibility to reduce discharge line diameter and water usage together with an overall reduction of fuel consumption per extracted ton.
Sand extraction and dewatering - these processes produce a highly abrasive sludge that must be pumped to settling tanks or, in the case of waste, to a sewage treatment plant. Heavy-duty Dragflow pumps are the ideal solution to guarantee a long service life, even with high quartz contents.
TRENCH AND POND CLEANING
Moving tailings and cleaning ponds around process plants is a crucial activity to keep the production process efficiency running. Mining companies and contractors have come to trust the incredible heavy-duty design of Dragflow submersible mining pumps. Dragflow pumps can be designed to work comfortably with slurry specific gravity up to 1,7 kg/dm3 and in a very wide range of pH. A line of advanced control panels allows recording of the main operating parameters of the pump as well as monitoring of the pump operation from a remote location.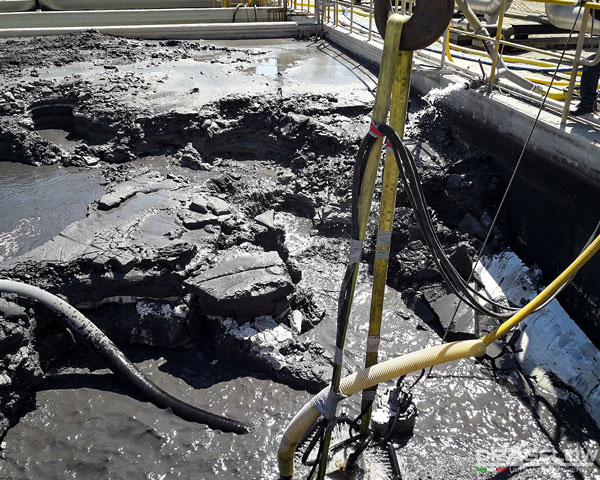 DAM AND TAILING PONDS DREDGING
Recovering the capacity of dams and tailing ponds is an essential operation to keep the processes and the mine running. SIGMA offers tailor made and comprehensive dredging systems and can be recognized as flexible and reliable partner. In a process where keeping operational costs at the lowest level is crucial, Dragflow solutions prove to be a competitive alternative to more traditional dredging technologies. A submersible agitator pump is able to move a much higher solid concentration than a suction dredge, thus permitting a lower operational cost per cubic meter of extracted material. Dragflow dredges are designed to work up to a depth of 30m in standard configuration and up to 250m with compensated pumps.
CHANNEL AND POND CLEANING
Thanks to Dragflow technology, cleaning of ponds and waterways have never been so efficient and safe. Transportable remote controlled Dragflow dredging systems, together with high efficient submersible agitator pumps, are setting a higher standard on the market. Dragflow pumps, in comparison with suction technologies, have the ability to handle more solid in the slurries. This allows use of smaller line diameters maintaining the same hourly production of an equivalent suction dredge.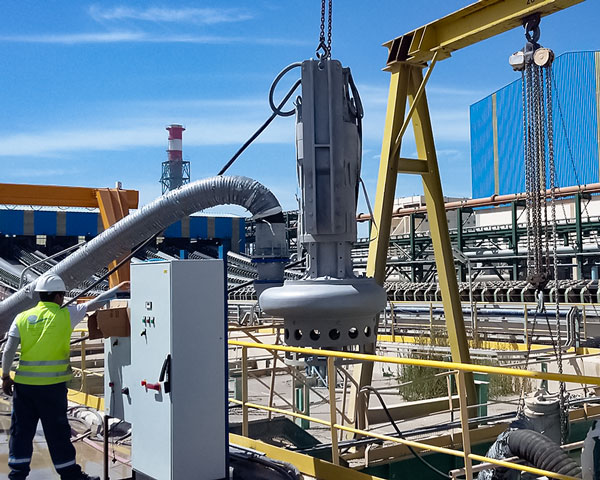 CLEANING AND DEREDGING OF CONTAMINATED WATER AREAS
Along with the growing awareness of environmental problems, efforts are focused on cleaning up contaminated areas in harbors, rivers and industrial fields. Dragflow submersible pumps produce only slight turbidity during operation and can operate in chemically aggressive environments with a wide pH range. They are the perfect solution for such projects. Contaminated deposits are removed without harming the surroundings. This is made possible by the high efficiency of submersible pumps, which ensure the lowest energy consumption per cubic meter of material removed.
TAILING AND INDUSTRIAL PONDS
Cleaning of tailings and industrial pits is an important operation to keep the production process going. Dragflow has become a new standard: thanks to the higher solid concentration provided by Dragflow technology, it is possible to reduce usage of water or cope with extremely heavy slurries.
Dragflow pumps can be also equipped with augers or cutters to be used in pumping organic materials or in presence of long vegetation.
Dragflow pumps are used worldwide for cleaning of scale pits in steel mills. Thanks to the agitator and higher solid concentration provided by Dragflow technology, it is possible to lift the scale and pump it in a very high concentration. Dragflow pumps can also be equipped with temperature control and advanced electric control panels to have complete control of the application and the efficiency of the cleaning process.
In addition to exceptional pumps, Dragflow can provide remote controlled electric dredge: an efficient, simple and safe way to keep tailing and sediments under control.
SAWAGE PLANTS
Dragflow pumps and remote controlled dredges can be efficiently operated in sludge removal from the biosolid lagoons thanks to their ability to handle abrasive solids and the option of a cutter-knife to chop organic materials. A mechanical excavator would otherwise be required.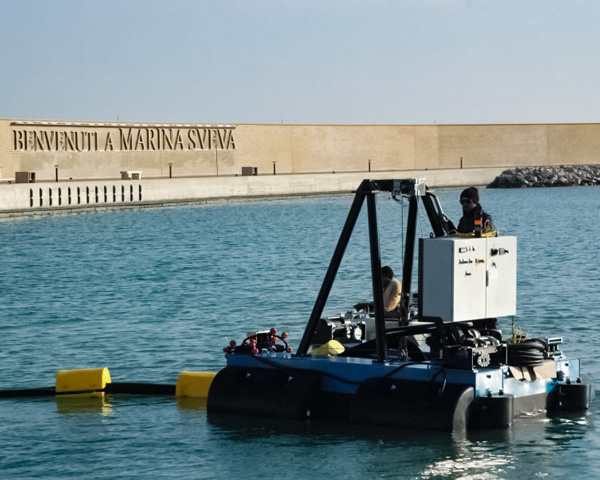 HARBOR AND MARINA DREDGING
Commercial Ports, as well as tourists harbors water depth, has to be maintained to keep the facility in full operation. Cleaning and maintenance of ports, marinas and waterways are therefore an important sector of activity for Dragflow and its customers. Dragflow solutions are a competitive alternative to more traditional cutter suction dredges because the submersible agitator pump technology allows operators to keep a much higher solid concentration (up to 70% by weight) in the dredged slurry, thus permitting lower operational cost per cubic meter of extracted material.
LAND RECLAMATION AND COASTAL PROTECTION
For more than 25 years, Dragflow has proudly played an important role to serve contractors, providing a defence against flooding and the erosion of land. Dragflow has become a new standard along the years: thanks to the higher solid concentration provided by Dragflow technology, it is possible to considerably reduce the cost per cubic meter of pumped material. More solids means less water into the slurry, thus more production with same energy consumption.
GEOTEXTILES FILLING
Dragflow hydraulic pumps are ideal to fill-up geotextiles. Thanks to variable rotational speed of the pump, the system production can be easily adjusted in order to guaranteed best mixing with eventual polymer and optimize fill-up cycles.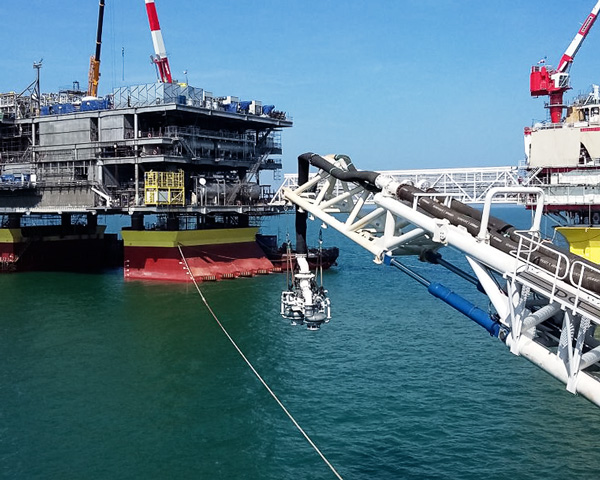 OFF-SHORE AND HIGH DEPTH DREDGING SYSTEM
High depth projects can be very challenging not only for the high pressure environment where the pumps are required to work, but also in terms of equipment installation and handling. Dragflow has not only the widest range of submersible dredge pumps and excavators that can work in high depth and deep-sea water (with successful projects up to 250m of working depth), but is able to provide a complete tailor made solution that includes umbilical oil hose systems, hydraulic spoolers for oil hoses, and hydraulic powerpacks for the offshore and oil&gas industry. Each system can be integrated with remote controls and remote monitoring functionalities in order to increase operational efficiency and personnel safety.
CIVIL EMERGENCIES
Dragflow has partnered with other manufacturers in the construction of complex machines to be used during civil emergencies and fire-fighting operations. Thanks to specific design capabilities of Dragflow engineering team, our dredge systems can be a reliable integration for other OEM's. Dragflow works closely with its customers to ensure that its custom-built equipment meet their individual requirements and expectations.
ABOUT DRAGFLOW
Dragflow was established at the end of the 1980's as a manufacturer of heavy duty submersible agitator pumps specifically designed for handling slurries with a high content of abrasive solids. Thanks to the passion and brilliance of its team of technicians and engineers, Dragflow has proven to be not just a simple alternative for handling solids with conventional products and systems, but provides solutions for those clients operating in specialized sectors who must face extreme conditions and solve very difficult applications.
As a recognized leader in the production and marketing of submersible dredge pumps, Dragflow has gained over the years remarkable international experience and first rate reputation in the production of dredges, for marine and energy sectors as well as in mining for minerals and other materials. Thanks to the experience in leading technology projects, Dragflow continuously enhances its ability to deliver high-quality products.
Dragflow invested in ISO9001 Quality Certification and in its information systems, because it believes in the importance of business process management, not only for improving efficiency but also to provide excellent service to customers across the globe.
CONTACT THE DEPARTMENT