Rigid arm type industrial manipulators
SIGMA MANIPULATORS WITH RIGID ARM SYSTEM ARE INDUSTRIAL MANIPULATORS DESIGNED FOR EASY AND PRECISE TRANSPORT OF LOADS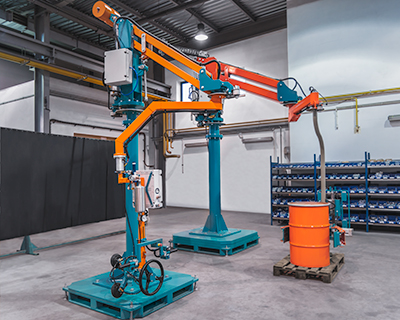 The basic task of these devices is to enable the operator to effortlessly move, rotate and position objects of high weight and large dimensions. SIGMA manipulators increase the comfort and efficiency of the employee and improves operation/work cycle of given application onsite.
Manipulators are equipped with pneumatic drive. The weight of the load is balanced by a system of arms, levers and cylinders. We offer following manipulators: column-mounted stationary, suspended stationary, suspended movable and mobile version with a stabilization plate allowing to relocate the device with forklift or pallet truck.
We offer devices with various parameters and grippers.
Products presented below are standard products.
Our team is able to adapt ordered equipment to your individual needs.
ALL MODELS - KEY FEATURES
SIGMA XS
Lift capacity [kg]
50
90
125
180
Lifting height range [mm]
1700
1400
1100
800
Minimal radius range Rmin [mm]
850
700
600
500
Maximal radius range Rmax [mm]
3000
2500
2000
1500
SIGMA S
Lift capacity [kg]
80
120
160
230
Lifting height range [mm]
1850
1600
1300
1050
Minimal radius range Rmin [mm]
1000
850
750
650
Maximal radius range Rmax [mm]
3500
3000
2500
2000
SIGMA M
Lift capacity [kg]
100
150
230
330
470
Lifting height range [mm]
2300
2000
1700
1400
1100
Minimal radius range Rmin [mm]
1100
1000
850
750
650
Maximal radius range Rmax [mm]
4000
3500
3000
2500
2000
SIGMA L
Lift capacity [kg]
200
280
400
530
700
Lifting height range [mm]
2300
2000
1700
1400
1100
Minimal radius range Rmin [mm]
1150
1050
850
750
650
Maximal radius range Rmax [mm]
4000
3500
3000
2500
2000
SIGMA XL
Lift capacity [kg]
280
400
550
750
950
Lifting height range [mm]
2300
2000
1700
1400
1100
Minimal radius range Rmin [mm]
1650
1400
1250
1000
900
Maximal radius range Rmax [mm]
4500
4000
3500
3000
2500
SIGMA XXL
Lift capacity [kg]
550
750
950
1200
1500
Lifting height range [mm]
1700
1500
1250
1100
950
Minimal radius range Rmin [mm]
1250
1100
1000
900
750
Maximal radius range Rmax [mm]
4500
4000
3500
3000
2500