Submersible pumps
DRAGFLOW SUBMERSIBLE DREDGING PUMPS ARE A SOLUTION OF UNMATCHED PERFORMANCE AND VERSATILITY FOR THE HYDROTECHNICAL INDUSTRY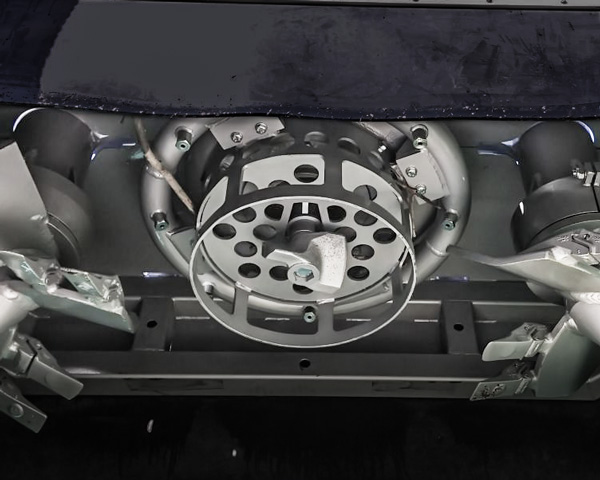 Dredging and solid's recovery are highly energy consuming activities. The primary challenge for dredging equipment manufacturers is to develop efficient machines that reduce energy consumption, what minimizes operating costs. Since its establishment, Dragflow has been fully focused on submersible dredging pumps. We provide the widest range of electric and hydraulic submersible pumps on the market. The application of a double-blade impeller and the installation of a suction pump directly at the point of contact with the extracted material, give Dragflow pumps the ability to extract mixtures containing up to 70% of solids by weight. Higher solids content means that energy is used to extract solids, not water! This allows to install smaller diesel engines and pipelines with a smaller diameter. This finally results in a significant reduction of operating costs per cubic meter while keeping the daily production rates at the same level, comparing to larger cutter-suction dredges.
DRAGFLOW EQUIPMENT FEATURES
High versatility
The Dragflow submersible dredge pump is a versatile tool. It can be attached to the boom of an excavator and run using the excavators hydraulics or it can be suspended from a crane or an A-frame to form a high efficient suction dredger. Design of dredgers comes out to be extremely simplified with possibility to reduce capital cost and have high working depth without any increase in the cost of equipment.
Pumps can be provided with cutter heads and thus form a submersible cutter dredger, with high pressure water jets to work in extremely concentrated mud or it can be equipped with an auger head for environmental dredging operations.
Strong and reliable motors (electric/hydraulic)
Dragflow motors for our pumps are all Class H isolated. They are designed for handling slurries with up to 1,7 specific gravity. Low operating RPM promotes low wear rates and extended component life.
Best in class seal system
Pumps are equipped with a unique lip seal system with a front deflector to prevent fine materials from penetrating the seal and Teflon layers to resist to high and low pH. Incredible high precision in the machining of parts together with grease injection points ensure long sealing system life. Small pumps, up to 18kW, are equipped with a combination of lip seal layers that protect a double mechanical seal.
Metallurgy at the top
High quality materials ensure long life of all components. Castings are 100% made in Italy with quality checks for every casting in order to ensure homogeneous hardness from surface to the core. All wear parts are made in High Chrome alloy to allow extended life between spare parts changes.
Solid Handling up to 120mm
Pompy są projektowane do pracy w najcięższych warunkach. Tłoczą ziarno o wielkościach od 20 mm do 120 mm.
Structural characteristics
Adjustable Hi-Chrome suction side wear plate maintains maximum performance for extended periods by a simple adjustment of the gap between the wear plate and the impeller.
Service bolt allow easy pump disassembly and is built in service tool.
Replaceable wear parts like castings, impeller or wear plates, can all be replaced independently.
Lube oil inspection ports: a wide-angle port outside the pump ensures easy inspection of shaft seal oil levels, as well as providing easy access for oil replacement.
Easy cable replacement – no epoxy on power cable. This means fast cable change together with a protected motor.
Dual thrust bearings to reduce vibration and counter thrust loads in both directions.
High efficiency agitator
The excavating action is created by the Hi-Chrome agitator blades that lift settled sediments which get sucked into the pump, creating a continuous flow of concentrated slurry (up to 70% by weight). On a wide range of pumps models Dragflow agitator is reversible, this significantly increases the life of this component.
External flushing for special materials
Dragflow pumps do not require any special attention when working with a very high solid content but in presence of sticky material external flushing with clean water is possible.
Mechanical sealing
Dragflow standard sealing system is its superb lip seals combination. A double silicon carbide mechanical seal is combination with a front detector and is available as an option for very abrasive applications.
Stainless steel components
In case of high or low pH, pump filter and lifting plates can be installed in stainless steel (316SS). This choice together with Viton layers in the seal zone, makes Dragflow pumps suitable for environments with pH from 2 to 10.
In order to solve the problems associated with working in an aggressive environment, Dragflow pumps can be manufactured entirely of stainless steel.
DREDGING TECHNOLOGY
"Dredging the bottom" by a double blade agitator with direct material suction by the pump (without a suction section), enables the pumping of a mixture of water and bottom slurry with a solids content up to 70% by weight.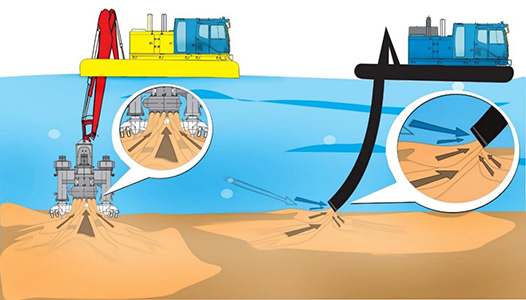 Submersible dredging pump vs. plain suction pump – comparison.
SUBMERSIBLE DREDGING PUMP WITH CUTTER HEAD
PLAIN SUCTION PUMP
The submersible dredging pump with cutter heads, works perpendicularly to the surface of the residual aggregate, extracting the material with the entire suction surface. In the case of submersible dredging pumps, the suction section, which is a critical point in reducing the density of the pumped mixture, has been eliminated. Supporting the extraction with the use of cutter heads that move the material from the bottom of reservoir into the suction area, additionally increases the density of pumped mixture.
Material collection through a suction pipe that is lowered to the reservoir's bottom at some angle. The material is only collected through the bottom part of the pipe, the rest of space is filled with water.
Pumping the material with a high content of water. Several or over a dozen meters long suction section, additionally reduces the density of the pumped mixture. High dilution of the pumped mixture significantly reduces the efficiency of such application.