Offer
Pumps with electric drive
Dragflow has developed a unique range of pumps for extreme heavy duty applications. They are designed for pumping heavy sludge and slurries, as well as sticky and abrasive substances. Dragflow pumps can also be part of the equipment of floating platforms (dredges). Pumps in this range are designed with oversized motor and exceptional structural quality to work in applications where all other pumps fail. All pumps have standard high efficiency agitator to lift settled solids. High abrasion resistance with high chrome wear parts.
Wide range of pumps allow the customer to select equipment with suitable parameters for given application. Technical characteristics of each device are available in DOWNLOAD section.
Our specialists will help you to select proper device for your application. Please contact us.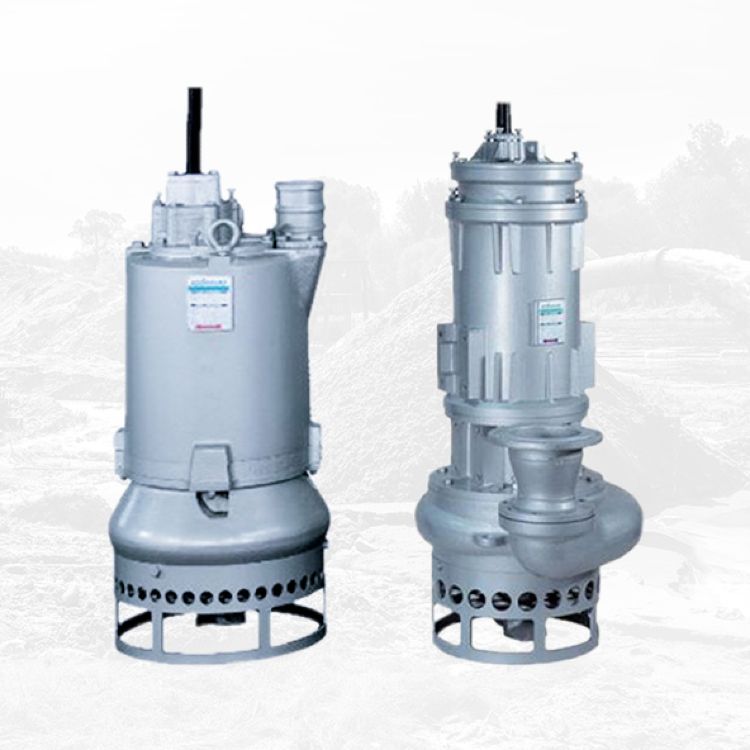 SPECIFICATION
Files to download
Main features:
low rotation speed to reduce wear effect,
able to handle up to 70% solids by weight (slurries up to 1,7 ton/m3),
all electric motors are class H with high service factor,
electric pumps are available in 50Hz and 60Hz versions,
certification CE/UL/CSA,
HH (High Head) Series – pumping up to 72 m height,
HC (High Capacity) Series – pumping up to 1200 m3/h capacity,
S and SS Series – pumps with high power engines for heavy duty applications.
Type
Capacity [m3/h]
Head [m]
Power [kW/KM]
Speed [rmp]
Weight without cable [kg]
EL5 50Hz
30
12,4
3,7/5
1450
185
EL7.5 50Hz
60
12
5,5/7
1450
260
EL7.5S 50Hz
60
12
7,5/10
1450
260
EL7.5SS 50Hz
60
12
9/12,5
1450
260
EL10 50Hz
60
15,5
7,5/10
1450
260
EL10S 50HZ
60
15,5
9/12,5
1450
270
EL10SS 50HZ
60
15,5
11/15
1450
270
EL12.5 50HZ
60
19,5
9/12,5
1450
270
EL12.5S 50HZ
60
19,5
11/15
1450
270
EL12.5SS 50HZ
60
19,5
13/18
1450
270
EL20 50HZ
160
27
15/20
1450
310
EL20S 50HZ
180
27
18/25
1450
310
EL20SS 50HZ
160
27
22/30
1450
310
EL25 50HZ
100 (mod. A)
140 (mod. B)
21 (mod. A)
17 (mod. B)
18/25
980
680 (mod. A)
695 (mod. B)
EL25S 50HZ
100 (mod. A)
140 (mod. B)
21 (mod. A)
17 (mod. B)
26/35
980
860 (mod. A)
870 (mod. B)
EL35 50HZ
90 (mod. A)
140 (mod. B)
31 (mod. A)
27 (mod. B)
26/35
980
860 (mod. A)
870 (mod. B)
EL35HC 50HZ
210
15
26/35
980
750
EL35SMG 50HZ
90 (mod. A)
140 (mod. B)
31 (mod. A)
27 (mod. B)
44/60
980
1000 (mod. A)
1010 (mod. B)
EL60 50HZ
200 (mod. A)
350 (mod. B)
26 (mod. A)
20 (mod. B)
44/60
980
1005 (mod. A)
1025 (mod. B)
EL60HC 50HZ
720
5
45/60
980
1300
EL60S 50HZ
200 (mod. A)
350 (mod. B)
26 (mod. A)
20 (mod. B)
60/80
980
1200 (mod. A)
1220 (mod. B)
EL110 50HZ
350 (mod. A)
450 (mod. B)
30 (mod. A)
27,5 (mod. B)
80/110
740
2400 (mod. A)
2450 (mod. B)
EL110S 50HZ
350 (mod. A)
450 (mod. B)
30 (mod. A)
27,5 (mod. B)
110/150
740
2700 (mod. A)
2750 (mod. B)
EL150 50HZ
720 (mod. A)
900 (mod. B)
22 (mod. A)
18 (mod. B)
110/150
600
4520 (mod. A)
4570 (mod. B)
EL180 50HZ
300 (mod. A)
450 (mod. B)
40 (mod. A)
36 (mod. B)
130/180
980
2700 (mod. A)
2750 (mod. B)
EL180S 50HZ
350 (mod. A)
450 (mod. B)
40 (mod. A)
36 (mod. B)
150/200
980
2900 (mod. A)
2950 (mod. B)
EL200 50HZ
350 (mod. A)
450 (mod. B)
48 (mod. A)
44 (mod. B)
150/200
980
2900 (mod. A)
2950 (mod. B)
EL300 50HZ
900 (mod. A)
1200 (mod. B)
33 (mod. A)
25 (mod. B)
240/325
740
6000 (mod. A)
6050 (mod. B)
EL354 50HZ
60 (mod. A)
120 (mod. B)
46 (mod. A)
39 (mod. B)
37/50
1450
750 (mod. A)
760 (mod. B)
EL354SMG 50HZ
60 (mod. A)
120 (mod. B)
46 (mod. A)
39 (mod. B)
44/60
1450
950 (mod. A)
965 (mod. B)
EL604 50HZ
200 (mod. A)
400 (mod. B)
42 (mod. A)
27,5 (mod. B)
75/100
1450
1070 (mod. A)
1085 (mod. B)
EL604MGHH 50HZ
100 (mod. A)
200 (mod. B)
49 (mod. A)
35 (mod. B)
75/100
1450
1100 (mod. A)
1130 (mod. B)
EL604S 50HZ
200 (mod. A)
400 (mod. B)
42 (mod. A)
28 (mod. B)
90/120
1450
1200 (mod. A)
1240 (mod. B)
EL1204 50HZ
200 (mod. A)
400 (mod. B)
600 (mod. C)
47 (mod. A)
37 (mod. B)
24 (mod. C)
90/120
1450
1200 (mod. A)
1220 (mod. B)
1240 (mod. C)
EL1204HC 50HZ
720
16
90/120
1450
1400
EL1204MSHH 50HZ
100 (mod. A)
200 (mod. B)
300 (mod. C)
72 (mod. A)
60 (mod. B)
42,5 (mod. C)
90/120
1450
1100 (mod. A)
1130 (mod. B)
1160 (mod. C)
EL1204UHH 50HZ
310
120
140/188
1450
1915