Dredges
COMPANY SIGMA S.A. OFFERS COMPLETE MODULAR DREDGES WITH DRAGFLOW PUMP INSTALLED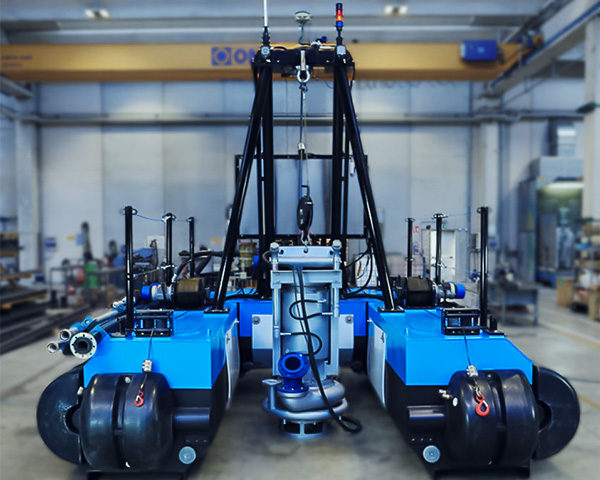 Such equipment can be used for works related to the extraction of aggregates, cleaning various types of reservoirs from contaminations and sludge, harbor works and for many other applications.
MAIN FEATURES AND PARAMETERS OF DREDGES:
HIGH PRODUCTIVITY: higher concentration of solids and 30% lower fuel consumption comparing to similar suction dredge. Dragflow technology allows high solid concentration thus making our dredge one with the lowest operating cost on the market.
EASY TRANSPORTATION: Modular hulls permit easy transport with trucks or containers.
EASY AND QUICK ASSEMBLY: Dragflow dredges are specifically designed and manufactured for easy assembly, both on the ground or in the water, and in arduous conditions.
EASY TO HANDLE: our dredges are designed to be handled by an operator with a minimum experience of naval equipment.
LIMITED DRAUGHT: our dredges have a limited draught, also suitable to work in shallow water conditions.
HIGH WORKING DEPTH WITH SMALL FLOATING DIMENSIONS: Depth up to 100m.
NAVAL REGISTER CERTIFICATIONS: our dredges are built according to the RINA regulations.
SHORT DELIVERY TIME: the standard delivery time is from 10 to 14 weeks.