Offer
SIGmove
SIGmove is an universal electric mobile lifter with a wide range of applications. The device is the base for mounting the various types of handling attachments that enable lifting and moving any type of loads, containers and packages weighing up to 130 kg. Its design ensures comfortable, safe and fast work. The lift has a battery powered electric drive, a soft start/stop system and protection against uncontrolled lowering in the event of a power failure. The lift control is placed in an ergonomic handle designed to move the device. The mobile base, in addition to the central brake, has a wheel turn lock which ensures the easy control while travelling in one straight direction with a load.
By ordering the device, you get a complete set with a selected or specially designed handling attachment.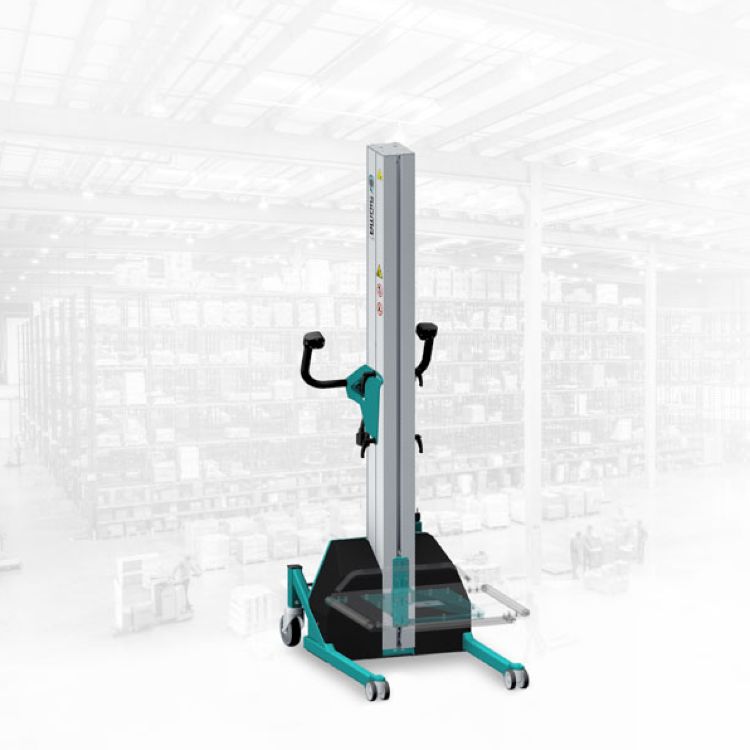 SPECIFICATION
Video
Files to download
Specification
TECHNICAL CHARACTERISTICS
SIGmove type M
SIGmove type L
Lifting height:
1600 mm
2000 mm
Load capacity:
130 kg
Lifting speed:
110 mm/s
Battery:
9 Ah, 24 V DC, typ AGM
Charger:
integrated, 115 - 24 V AC
Charging time:
8 hours
Min. number of working cycles:
43
Sealing class:
IP41
Raw material:
steel, aluminum
SIGmove's features and functions:
electric lift up/down,
control/steering integrated in the handle,
two levels of lifting/lowering speed,
soft start/stop system,
safety system against lowering the lift in the event of power loss,
overload protection system,
maintenance-free power battery,
integrated charger with battery overcharge protection,
ergonomic handle with adjustable mounting height,
mobile base enabling easy and precise moves in narrow areas,
central braking mechanism and wheel locks allowing the easy keep the track.
SIGmove at the WARSAW PACK 2023 fair
/ 37