Offer
System of devices for suspending and shifting of electric and auxiliary equipment ANACONDA
System of devices ANACONDA is designed for shifting of various mining machines and equipment on suspended monorail track (e.g. SKP-110). Special application of the system allows to suspend and shift electric devices and equipment for powering longwall and road heading systems. Universal design of the system allows to set up given elements in any configuration depending on customer's requirements.
Additional equipment to be applied with ANACONDA is hydraulic shifting set HZP-SIGMA 60. Hydraulic shifting set HZP-SIGMA 60 and HZP-STRONG 110 are designed to shift various types of devices (e.g. platforms, beams, containers, hoists, conveyors and others) on suspended monorail track. Devices' work can be either hydraulic or radio controlled.
These devices are adapted to work in methane and non-methane mines, excavations with degree of "a", "b" and "c" of methane explosion hazard and excavations with class of "A" and "B" of coaldust explosion hazard. This device has been classified as Group I, category M2 due to its applicationin areas exposed to danger of explosion (according to directive 2014/34/UE).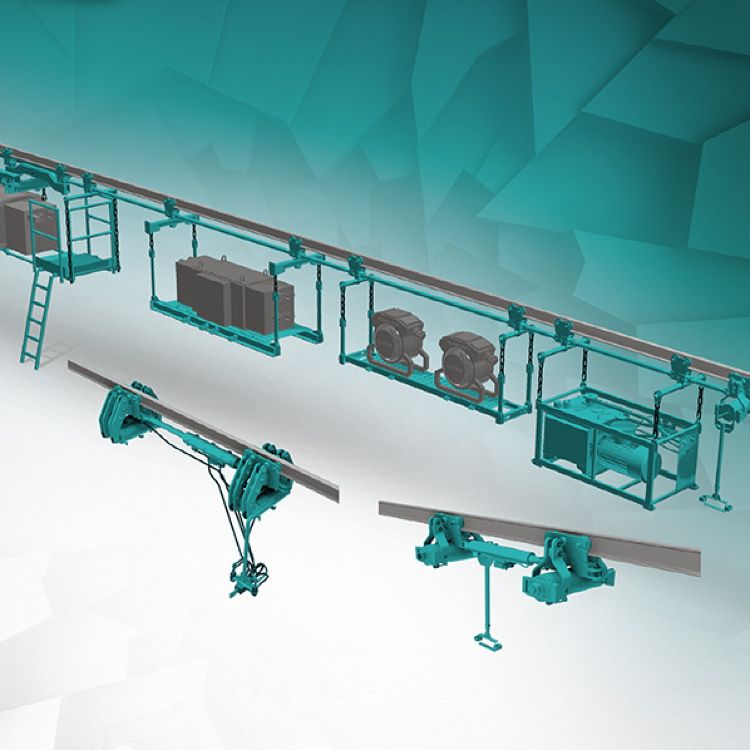 SPECIFICATION
Files to download
TZN TECHNICAL CHARACTERISTICS
TZN-15
TZN-40
TZN-60
TZN-60G
TZN-80
TZN-100
TZN-130
Carrying trolleys
Carrying capacity [kN]
15
40
60
60
80
100
130
15; 25; 40;
Cable hangers
around 10 different types
Pull-rods
max. 3m length
HZP TECHNICAL CHARACTERISTICS
HZP SIGMA 60
HZP STRONG 110kN
Rail joints strength [kN]
60
110
Max. strength of actuator [kN]
60
110
Actuator
Φ60 / Φ93 x 638
Φ120 / Φ63 x 695
Working pressure
 piston rod-side area [MPa]
20
16
 piston-side area [MPa]
10
16
Admissible excavation's inclination [°]
±27
±27
MAX. WEIGHT OF TRANSPORTED SET (friction coefficient µ=0,1)
Rails representing strength of joints being 60 kN
Inclination angle [°]
5
7,5
10
12,5
15
17,5
20
22,5
25
Weight of set [t]
32,12
26,12
22,05
19,10
16,88
15,15
13,76
12,63
11,69
Rails representing strength of joints being 110 kN
Inclination angle [°]
5
7,5
10
12,5
15
17,5
20
22,5
25
Weight of set [t]
58,12
47,89
40,42
35,02
30,95
27,72
25,22
23,15
21,43