Offer
Equipment shifting devices MZD-600 UPL-LEGWAN UPN-WISENT
Equipment shifting devices MZD-600 and UPL-LEGWAN are designed to non-chain displacement of mining machines and devices using hydraulic cylinders (actuators) through ratchet mechanism and beams.
UPN-WISENT is designed to displace (move) the AFC's auxiliary drive which is being performed through two hydraulic cylinders (actuators) mounted with supporting plate on one side and main plate (assembled with AFC auxiliary drive) on other side. UPN-WISENT and UPL-LEGWAN work as vertical stopping system.
Equipment shifting devices can be applied in underground mining methane and non-methane excavations, considered as level "a", "b" and "c" area exposed to methane explosion hazard, as well as grade "A" and "B" of coal dust explosion hazard. Devices have been classified as Group I, category M2 due to its application in areas exposed to explosion hazard (according to directive 2014/34/UE).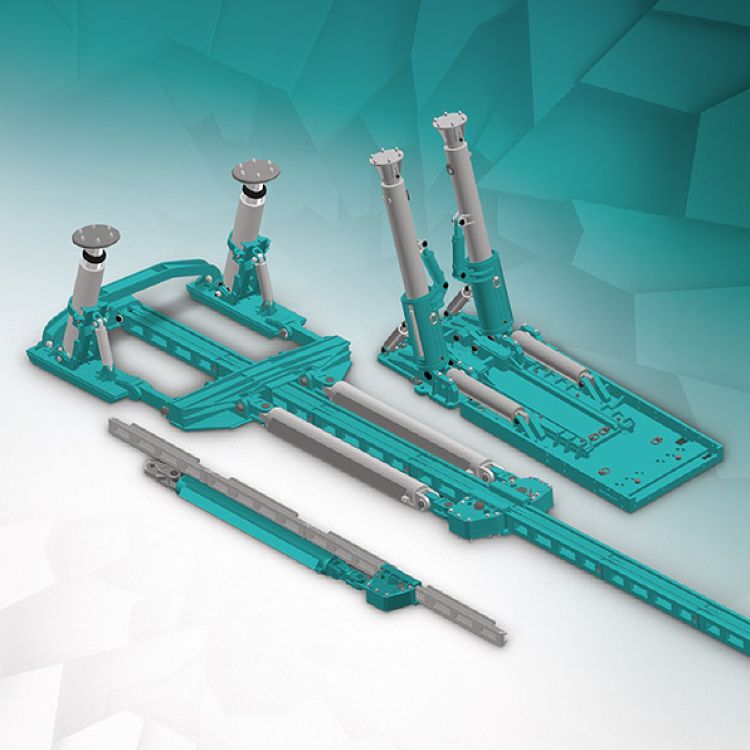 SPECIFICATION
Files to download
TECHNICAL CHARACTERISTICS
MZD-600
UPL-LEGWAN
UPN-WISENT
Actuator's supply
through main pressure supply line at longwall or oil from hydraulic aggregate
Max. supply pressure [MPa]
30
30
30
Max. dragging force [kN]
600
600 lub 2 x 600
2 x 339
Max. actuator's advance [mm]
3000
3000
1100