Offer
Self-propelled mobile return station SSZ-MAMBA
Self-propelled mobile return station MAMBA is a part of haulage (transport) system compatible with belt conveyor of any belt width. It is designed to collect the mined material from roadheader or any other machine which loads the mined material directly on station's feed chute.
MAMBA is used to extend the belt conveyor which moves along with development works (heading face) advance. MAMBA replaces standard mobile belt tail pieces available on the market, designed for transport of mined material. Structure of self-propelled mobile return station allows to install all kind of additional (auxiliary) devices on its construction.
Self-propelled mobile return station MAMBA is adapted to work in methane and non-methane mines, excavations with degree of "a", "b" and "c" of methane explosion hazard and excavations with class of "A" and "B" of coal dust explosion hazard. This device has been classified as Group I, category M2 due to its application in areas exposed to danger of explosion (according to directive 2014/34/UE).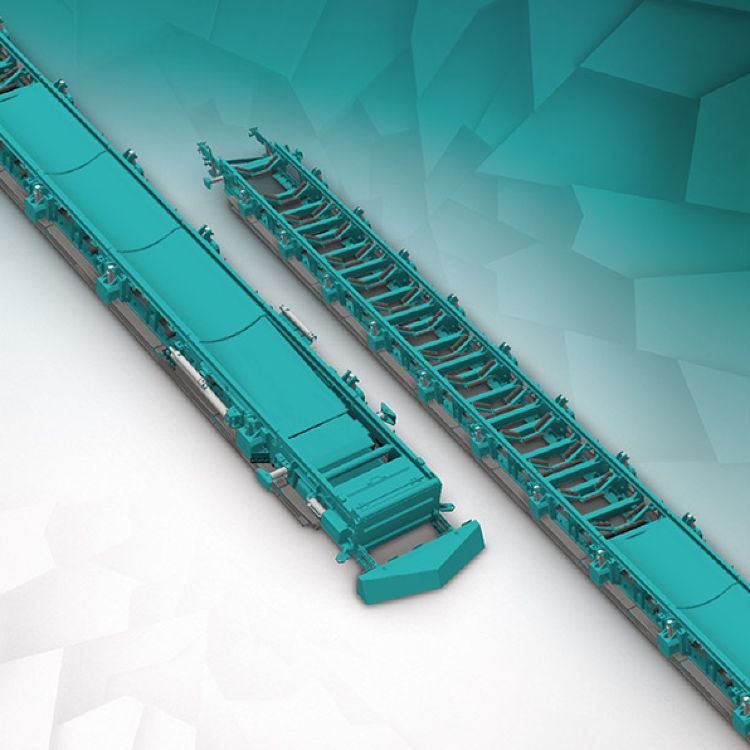 SPECIFICATION
Files to download
TECHNICAL CHARACTERISTICS
Belt width [mm]
1000 - 1600
Total lenght of station [m]
37,3
Height of station [mm]
1000
Width of station [mm]
2400
Width of station (including set of cables installed on one side) [mm]
2800
Supply pressure of hydraulic units [MPa]
21
Max. transverse inclination [°]
±5
Admissible longitudinal inclination of underground mining excavations where station is installed
limited by angles which allow compatible conveyors (scraper and belt conveyors) to be installed
Increase height [mm]
230
Piston-side force of station's moving system [kN]
2 x 300
Piston rod-side force of station's moving system max. [kN]
2 x 135
Belt conveyors compatible with station [mm]
belt conveyors of width 1000, 1200, 1400, 1600
Moving system's actuator [mm]
1500