Hydrotechnical services
SERVICES – DREDGING OF RESERVOIRS AND WATERWAYS, EXTRACTION OF AGGREGATES FROM THE BOTTOM OF RESERVOIRS…
Meeting the needs of the market and the challenges related to protection against floods and drought, as well as water environment management, SIGMA S.A. established a hydrotechnical department. In addition to the distribution of equipment, the department's task is to provide dredging, desludging and extraction of aggregates out of the bottom of all types of waterways and reservoirs.
Our advantage is the ability to select equipment and adapt technology to an individual project, taking into account all the requirements and expectations of the customer. As a result, SIGMA is ready to approach even the most challenging projects in difficult conditions.
We employ highly qualified staff and we implement the commissioned projects based on modern dredging technologies. This allows us to provide the highest level of services and shorter execution time comparing to traditional suction dredges.
The scope of works performed by SIGMA S.A.:
dredging of ponds, submersions, lakes,
dredging of rivers,
dredging of harbors,
dredging of waterways,
channel and pond cleaning,
dredging of reservoirs and post-industrial settling tanks (chemically aggressive waste).
DREDGING TECHNOLOGY
"Dredging the bottom" by a double blade agitator with direct material suction by the pump (without a suction section), enables the pumping of a mixture of water and bottom slurry with a solids content up to 70% by weight.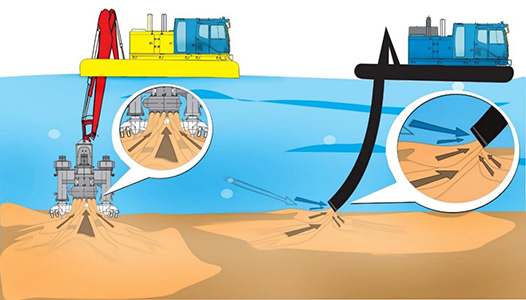 Submersible dredging pump vs. plain suction pump – comparison.
SUBMERSIBLE DREDGING PUMP WITH CUTTER HEAD
PLAIN SUCTION PUMP
The submersible dredging pump with cutter heads, works perpendicularly to the surface of the residual aggregate, extracting the material with the entire suction surface. In the case of submersible dredging pumps, the suction section, which is a critical point in reducing the density of the pumped mixture, has been eliminated. Supporting the extraction with the use of cutter heads that move the material from the bottom of reservoir into the suction area, additionally increases the density of pumped mixture.
Material collection through a suction pipe that is lowered to the reservoir's bottom at some angle. The material is only collected through the bottom part of the pipe, the rest of space is filled with water.
Pumping the material with a high content of water. Several or over a dozen meters long suction section, additionally reduces the density of the pumped mixture. High dilution of the pumped mixture significantly reduces the efficiency of such application.
Dragflow DRP60 dredge in SIGMA
/ 1:4